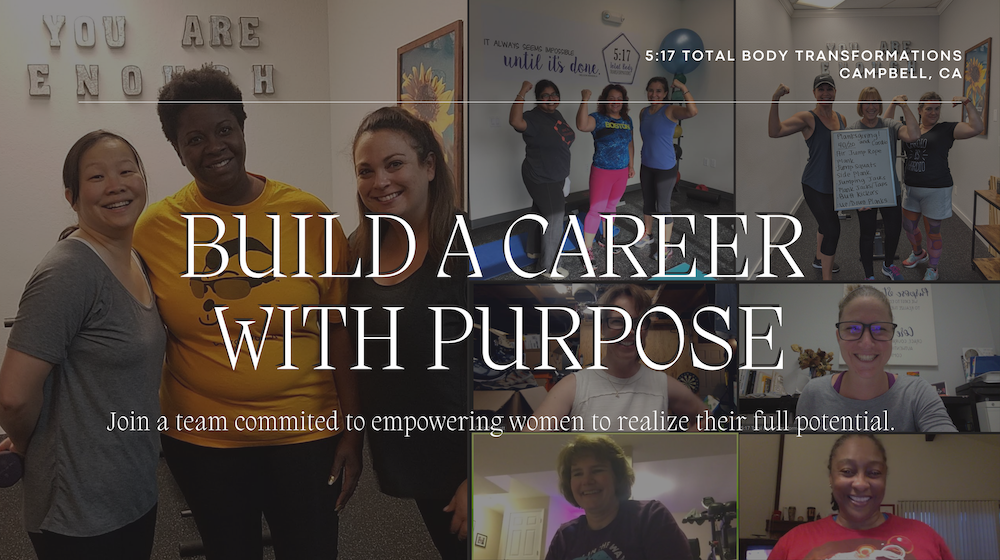 At 5:17 Total Body Transformations, our mission is to empower women and non-binary folks to realize their full potential.
To empower someone means to make them stronger and more confident, especially in controlling their life and claiming their rights. We believe that when folks possess this strength and confidence in a safe and comfortable community of others pursuing the best version of themselves, then entire communities, and the world, will be transformed.
We're looking for individuals to lead our clients on their wellness journey, individuals who share our vision to transform the culture of health and wellness, seeing food, fitness, and self-care as tools to strengthen our abilities and value, rather than fixing something that's broken.
We are an equal opportunity employer and value the diversity of our clients and staff. We're looking for candidates who embody characteristics and traits that foster an inclusive, encouraging training environment for our clients and staff. We believe the only failure is not trying. If you truly care about the health and well-being of others, we encourage you to apply, even if you do not meet all of the requirements.


Here are some of the qualities that describe our team:
Gracious: We give ourselves and those with whom we interact the freedom to pursue big dreams because we have unmerited, unlimited favor in the glory that is our maker.
Courageous: We do the things that frighten us.
Perseverant: We pursue the best results by steadfastly chasing our dreams despite difficulty or delays.
Authentic: We seek to be transparent in the representation of ourselves, our achievements, our struggles and our shortcomings.
Humble: We will not think less of ourselves, but strive to think of ourselves less, acknowledging that it is only in lifting others up (with proper boundaries) that we can lift ourselves.
Compassionate: We care deeply about the sufferings and misfortunes of others and devote ourselves to promoting the welfare of those in need.
We welcome both seasoned health and fitness professionals as well as those considering a future in the industry. We're more concerned with who you are than what you know. Credentials like certificates and degrees can be earned, but we believe character and personality are what set us apart as a staff.
If you're others-focused and proactive with a growth mindset, someone who's first reaction to a problem is, "how can I fix it?" then we'd love to meet you.
If you care deeply about the physical, mental, emotional and spiritual health and well-being of others, recognizing that total body wellness requires a holistic approach grounded in self-care and love, then we'd love to chat!
If you've got it all together, have everything all figured out and are ready to show everyone how they can do it better, we'll tell you now it's not going to work out between us.
Are you interested in joining our team? Fair Warning: Our hiring process is not quick or easy!
We are going to ask you to complete a few steps to prove you have the character we're looking for, as well as demonstrate that your values align with our mission and vision. However, know we are committed to making this process as accessible and equitable as possible and will tailor each of these steps to meet the needs of the individual candidate.
You will have at least 2-3 interviews to give both you and our team the opportunity to ensure there will be a good fit. We do not want just anyone! We want a team member willing to grow with us for years to come.
Personal Trainer (local & remote positions available):
Our trainers are the face of our company, not just someone who writes workout routines but an empowering, uplifting guide for the clients we serve.

The role of the Personal Trainer is to be a coach for the client and work closely with them to inspire and guide them towards the success she desires. View Job Description & Apply Now!
Personal Trainer Development Program (non-certified, aspiring trainers):
We're seeking folks who want to realize their full potential through an empowering new career in the health and fitness industry - and get paid while doing it! This 8-week development program is designed to help those with little or no experience in the field gain the knowledge, tools and skills to inspire others (and themselves) toward complete lasting, empowered change with a career in personal training. Click here to learn more & apply!
Benefits available:
Competitive pay, flexible hours, W2 employee positions

Accident insurance coverage inside and outside of the workplace

Bonus pay for performance targets

Paid sick leave

Opportunities for growth, including management and ownership