Easy Fall Styling, Part I: Top 20 Fall Capsule Wardrobe Must Haves
By Chelsea Breit, The Bright Look
--
Do you look in your closet and say, "I have nothing to wear," or keep wearing the same outfits because it's easy? Do you feel the cooler weather coming and want a wardrobe update for fall?
To start, getting dressed should be fun! How many of you have fun getting dressed??
Everything we wear says something about who we are, from the pattern on a shirt to the accessories we wear. Choose items that express that!
No matter what stage of life you are in, we all lead busy lives in the Bay Area, and sometimes what we wear is on the bottom of our to-do list because we just don't have time to think about it. Many of us are going from one thing to the next throughout our day and can't wear the same thing for each event/activity. This makes it overwhelming when deciding what to wear in the morning.
I want to help you simplify getting dressed and help you feel confident to tackle your day while wearing the appropriate attire, and give you a list of fall updates to get you ready for the cooler weather ahead.
Capsule Wardrobe
First, what is a capsule wardrobe? A capsule wardrobe is a collection of a few essential items of clothing that don't go out of style such as skirts, pants, and coats, which can then be augmented with seasonal pieces.
The term has come to refer to a collection of clothing that is composed of interchangeable items only, to maximize the number of outfits that can be created. The aim is to have an outfit suitable for any occasion without owning excessive items of clothing. This is usually achieved by buying what are considered to be "staple" items in coordinating colors.
If you say yes to the following 3 wuestions, then a capsule wardrobe is for you!
1. I want to reduce the number of items I own
2. I want to simplify my life (less laundry, less time deciding what to wear)
3. I want to reduce the amount of money spent buying (too many) clothes
Capsule Wardrobe Tips:
When it comes to building a wardrobe, start with a streamlined selection of basics that you can break out for any occasion. Once you have that covered, you can fill in the gaps with a few favorite trends and seasonal pieces throughout the year. Here are the key staples I always rely on to look effortlessly stylish.
I've learned there are really only 20 basics you truly need for a capsule wardrobe. The number of items may vary for each person depending on their lifestyle, but it's usually between 10-30 pieces. I added shoes and accessories as a bonus since we are specifically talking about fall right now.
My closet is filled with all 20 items below, and it's made my day-to-day dressing significantly easier to have these foundation pieces. I'm usually mixing and matching several of these pieces together with other trend and seasonal items for a look that's casual, work appropriate, or anything else that might come up. No matter what your style preference is, creating a capsule wardrobe will save you time and money in the long run.
Below I'm sharing the 20 basics that will revamp your closet for Fall, and are great year-round, and give you a great starting point for getting dressed. If you have some of these that's a great start! Evaluate if you need to update that item and if it's still in style and in good condition. If you don't have some of these items, begin to add them to your wardrobe. You won't be disappointed!
Top 20 Fall Capsule Wardrobe Must Haves + Shoes and Accessories
1. Little Black Dress
2. Sweater Dress
3. Basic Short Sleeve Tee (solid)
4. Basic Long Sleeve Tee (striped)
5. Button Down Shirt (white or chambray)
6. Plaid Flannel Button Down Shirt
7. Blouse (solid & printed)
8. Pullover Sweater
9. Open Front Cardigan (neutral & solid color)
10. Skinny Jeans
11. Colored Pant or Jean (olive & burgundy are great for Fall)
12. Black Skinny Jeans or Trousers
13. Black Skirt
14. Blazer or Fitted Jacket
15. Denim Jacket
16. Leather Jacket
17. Wool Blend Coat or Trench Coat
18. Utility Jacket
19. Quilted Vest or Utility Vest
20. Black Leggings
Shoes:
1. Black Riding Boots
2. Neutral Ankle Booties
3. Cognac Flats or Loafers
4. Neutral Slip on Sneakers
5. Leopard Print or Colored Flats (red is a great choice for Fall)
Accessories:
1. Plaid Blanket Scarf
2. Solid Colored Scarf
3. Statement Necklace
4. Pendant or Layered Necklace
5. Reversible Faux Leather Tote
6. Classic Hoop Earrings
7. Statement Earrings
8. Stud Earrings
9. Wool Floppy Hat or Fedora Hat
Remember, you don't have to be fancy or uncomfortable to look put together! Add a necklace, scarf, or earrings to your favorite pair of denim and favorite tee to complete the look. Layering pieces for fall is cozy and will also complete your look.
You have some fall styling tools, now have fun updating your fall look!
Find yourself stumped on how to dress for your long list of seemingly conflicting errands? Check back next week when Chelsea gives us tips on dressing for days when you're switching between workouts, the office, the grocery store, meet-ups and more!
MEET CHELSEA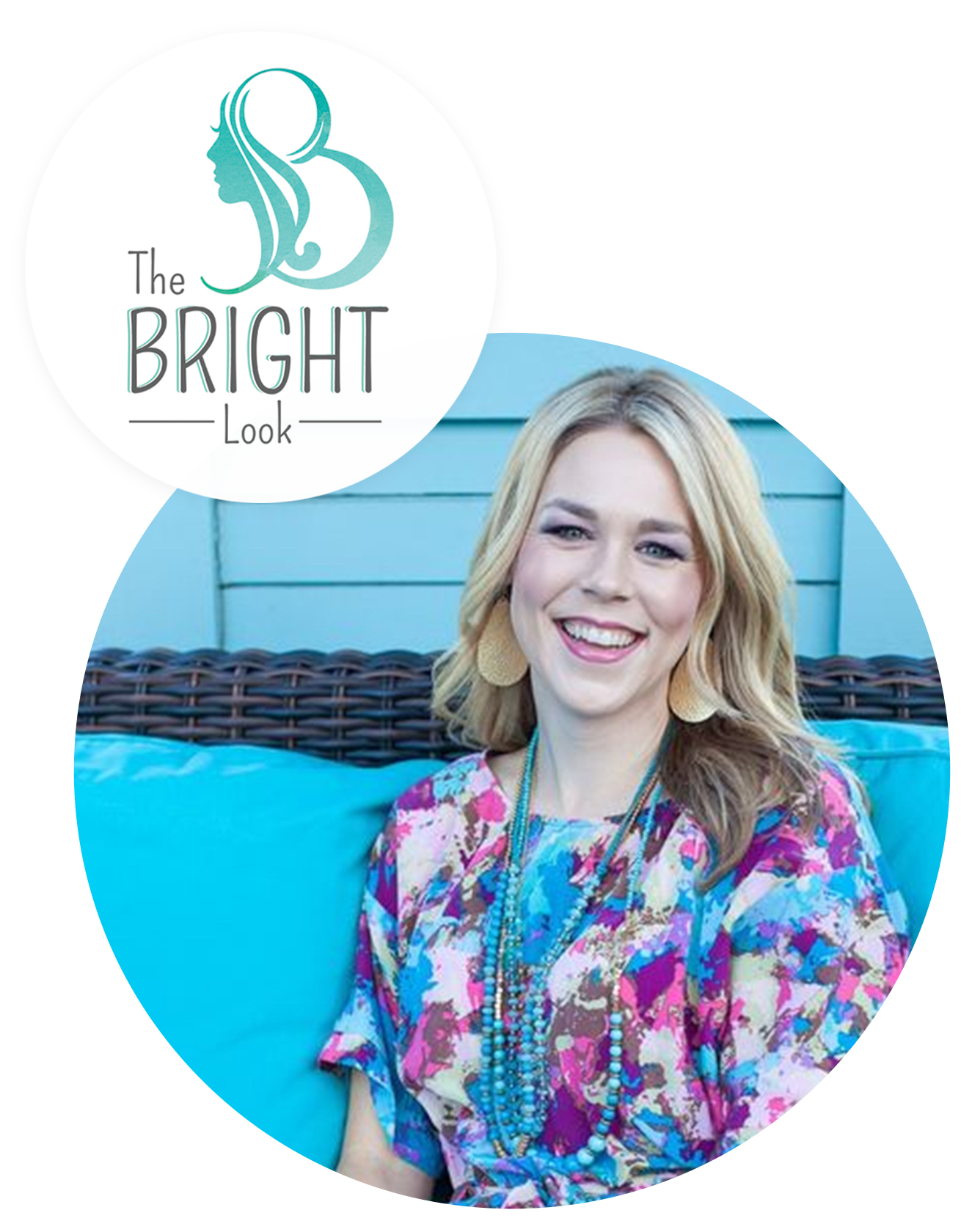 Hi, I'm Chelsea Breit! I'm a San Jose, California local girl, wife for 10 years and counting, and mom of 2 energetic boys. As a Fashion and Beauty Personal Stylist I help style women from head to toe and teach them how to feel great in what they wear. I believe no matter what stage of life you are in, it is important to take time to take care of yourself and feel good in what you wear! I look forward to meeting you and helping you express your beauty from the inside out with confidence.
Hugs,
The Bright Look is here to assist you in reaching all your style goals, including wardrobe and beauty services, photo shoot styling, and group styling seminars. Follow @thebrightlook on Instagram for great styling tips, visit their website at www.TheBrightLook.com to learn more, or email Chelsea by clicking here.